"Best selling historical romance writers beware! Dana D'Angelo is the new kid on the block. Medieval romance in England will never be the same again…" RC


I'm excited to announce my most recent book!
Highland Rogue
Scottish Strife Series - Book 5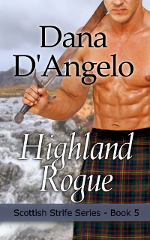 Alisha MacTellnor has looked out for her younger brother ever since their parents passed away. She is successful in keeping him away from harm until one day a Highland mercenary wanders into town. He's tall, dark and dangerous, and possesses all the reasons for them to stay away. Except her brother has become obsessed with joining the war effort, and the only person who might dissuade him is the lethal soldier of fortune.
As Alisha gets to know Donnell MacKelon, she sees that he's a generous and honorable man — not a brutal, profit-driven warrior that she assumes all mercenaries are. He's also kind to her sibling. Then just as her attraction toward the handsome Highlander blossoms, she discovers his hidden agenda. Was she right about him from the beginning? How can she possibly love a man who betrayed her trust and put her brother's life in peril?